I'm going out of town Wednesday and thought it would be a good idea to clean out my purse before I left. That way I don't have to worry about getting a ticket for not stopping at the weigh stations on the highway, since my pre-purge load was roughly equivalent to that of an 18-wheeler.
Here's what I found: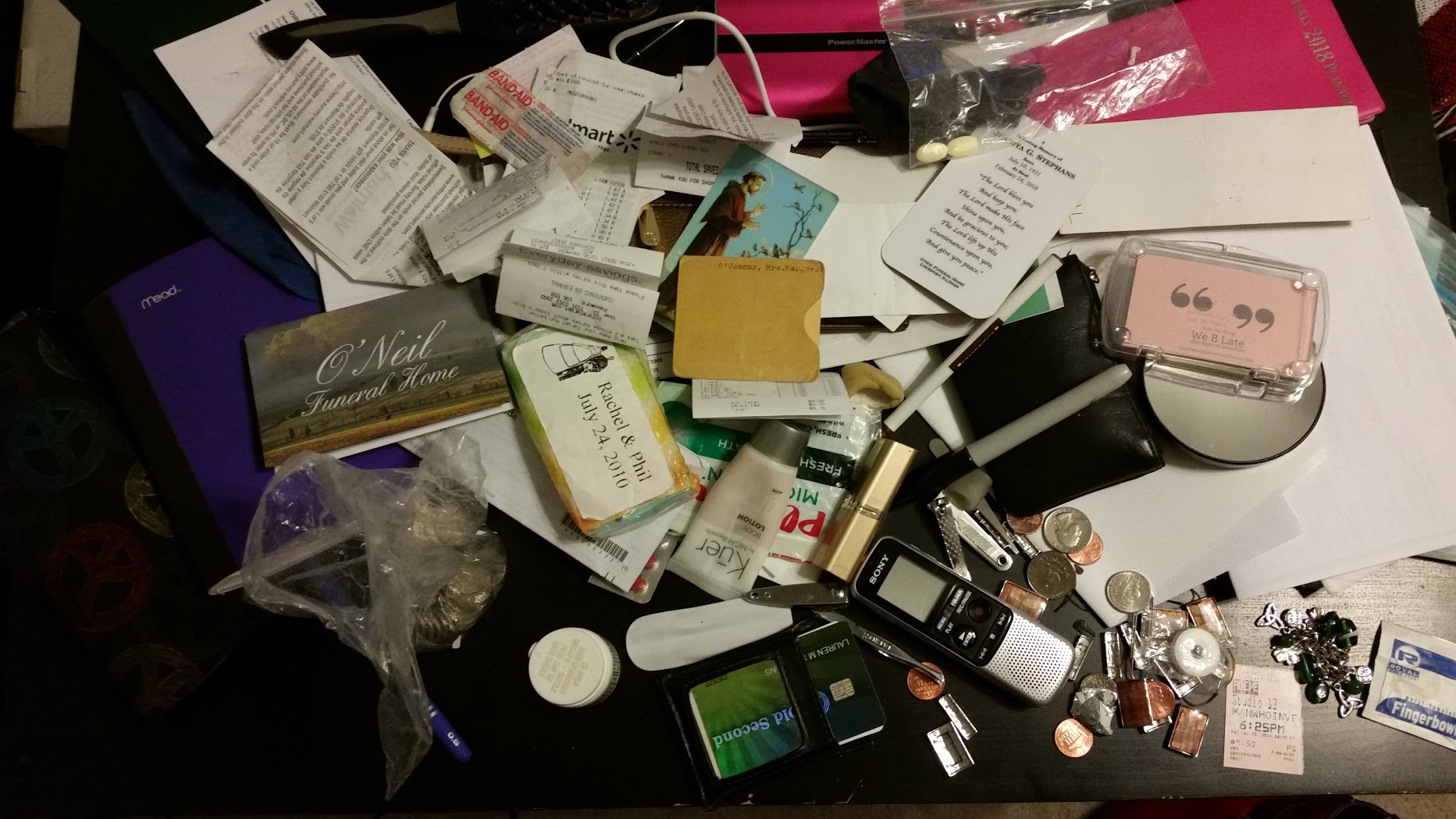 In addition to what I assume every woman carries in her purse (Driver's License, debit, credit and insurance cards, picture of Donny Osmond, and a pittance of cash and coin), there were numerous other items that would not only be excellent fodder for an archaeologist or budding Columbo (look him up, kids), but which also explain why my back hurts so much.
Specifically:
In addition to the cash in its proper place (a nifty coin purse), I also made a whopping 80 cents by digging deep. That's not including the full bag of nickels belonging to my grandson.
Speaking of nickel bags, five different kinds of drugs were present, including one literally in a baggie. Don't bother reporting me; although I did have real Sudafed (with the good stuff that works), the rest were just antacids, vitamins, cold medicine, and the bottle of ibuprofen that keeps me from walking around doing a Moses imitation, dragging a staff with a morphine drip for my arthritis.
One would also assume from this mélange that I would be extremely well-groomed, evidenced by:
Two pairs of tweezers and three nail clippers
Mascara
Eye liner pencil
Foundation
Lipstick
Hand lotion
Magnifying mirror
Floss-piks
Two cloths for cleaning glasses (but no glass cleaner)
And yet most days I think my vibe is more like a bare-faced Groucho Marx, waiting for his turn on the new Queer Eye for the Straight Guy. I can't really be sure, though, because my glasses are smeared.
It's obvious I'm a writer, what with the two notebooks, emergency phone charger, date book, ear buds, business cards, and dozen pens. (Although last time I had to write something down, I had to use the eyeliner, because I couldn't unearth any of them.) There's also a hand-held recorder, a gift from my sister so I can capture inspiration whenever and wherever I am, as well as the instruction book, so I can someday figure out how to use it.
What isn't so obvious is exactly how historians would timestamp the whole mess. Long, dark strands of hair and a hairbrush belie the (mostly) gray pixie cut I've sported for more than a year.  There were long-since expired coupons, ticket stubs from events I've already forgotten I attended, and receipts so old that I may have to amend our 2014 taxes.
All of these items were nicely cushioned by approximately 1,000 crumpled tissues, most of which I think were clean, having been stuffed in the purse on my way out the door "just in case," despite the dog-eared, personalized packet I made for Rachel and Phil's wedding almost eight years ago that I keep refilling because I just can't throw it away.
When the purse had been fully shaken of all detritus and refilling commenced, that tissue packet went back in, along with other important and sentimental items, including two good luck charms from my favorite people named Peggy.
The first is a shamrock key chain from my friend and "work wife," who gets as big a kick out of my Irish heritage as I do. The other is my mom's library card, which reminds me of her own writing ability and love of the written word.  They will always have a place of honor in my purse, even if it takes an archaeological dig to find them.