What follows is my Round 1 entry for the NYC Midnight 2014 Screenwriting Challenge.  The prompts were Ghost Story / Plastic Surgery / A Receptionist.  
Revelations of a Plastic Surgeon
Dr. Petrus calls his plastic surgery a "Portal to a New Life" for his patients.
But where does that portal really lead?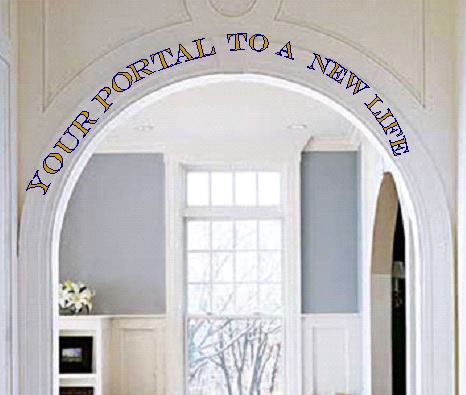 EXT. – SPRAWLING HOSPITAL CAMPUS
Camera zooms to one of the adjacent medical buildings.
INT. – INSIDE OF MEDICAL BUILDING
Camera shows glass entry door to office suite. Name etched on door reads:
Dr. S. Petrus




Cosmetic and Reconstructive Surgery
Decorative pearl marble archway around door is inscribed:
YOUR PORTAL TO A NEW LIFE
INT. – WAITING ROOM/RECEPTION OF DR. PETRUS' OFFICE
Every seat in the large waiting room is filled with MEN and WOMEN of all ages. Each is using a small electronic tablet to provide his or her patient history.
The receptionist, PRISCILLA, mid-50s, sits behind the large reception desk and answers the phone.
PRISCILLA
OK, 30-40 people. I've got it. I'll let Dr. Petrus know right away. Thank you.
Priscilla rises and walks back to the door to an inner office and knocks
DR. PETRUS (O.S.)
Come.
Priscilla opens the door and enters
INT. – DR. PETRUS' OFFICE
DR. PETRUS, late 60s, in a suit, sits behind a large desk.
PRISCILLA
Doctor, I just received a call from triage. There was a train derailment an hour ago, and they estimate 30-40 will need you for surgery.
DR. PETRUS
Alright. Call in Dr. Loukas to assist. We'll just re-prioritize with those already scheduled. With his help we should be fine.
PRISCILLA
Yes doctor.
DR. PETRUS
Who is next?
PRISCILLA
Reverend Anderson, Mrs. Jacobs and Miss Davis have all completed their histories. They are ready to access.
DR. PETRUS
Put them in surgical suites one,two and three, in that order. Reserve suites four through ten for the train accident victims, and tell triage to bring them over.
PRISCILLA
Yes, Doctor.
DR. PETRUS
Make sure triage has uploaded their intake into our system. I don't want to have to guess in surgery.
PRISCILLA
Yes doctor. I will.
Priscilla exits.
Dr. Petrus turns to his computer and begins typing. A video comes up on the screen, to which the camera zooms in.
INT. – LARGE, CONTEMPORARY CHURCH SANCTUARY
REV. ANDERSON, early 60s, tall, heavyset, and balding, is red-faced as he paces vigorously while delivering an animated sermon.
REV. ANDERSON
(shouting)
And that is why I say to you, my brothers and sisters in Christ, we must love the sinner but hate the sin! God made Adam and Eve, not Adam and Steve!
CHURCHGOERS
Amen! Amen!
REV. ANDERSON
One man and one woman – that defines marriage! And we cannot allow the perverse desires of these misguided souls to damage the sanctity of our holy unions!
CHURCHGOERS
Amen! Amen!
DISSOLVE TO
INT. – MOTEL ROOM BATHROOM SHOWER
Rev. Anderson is showering, speaking to someone unseen in the bathroom.
REV. ANDERSON
I wish I could say I know when I'll be back to see you again, but my preaching circuit takes me to the east coast for the next month.
He shuts off the water.
REV. ANDERSON
And I'm afraid my wife is getting a little suspicious, so we probably need to lay low for awhile anyway.
He opens the shower curtain, looks lustfully up and down at the camera
REV. ANDERSON
But I don't want to get ahead of myself… we still have today.
Rev. Anderson steps out of the shower and into the embrace of JENNIFER, mid-20s, great shape, also naked. They kiss passionately.
JENNIFER
That shower was a waste of time, because I'm going to get you all dirty again.
They embrace and kiss again…
DISSOLVE TO
INT. – DR. PETRUS' OFFICE
Dr. Petrus clicks off the video and picks up his own electronic tablet. He swipes a few times and then speaks into the device.
DR. PETRUS
Mr. Anderson, surgical suite one, patient's history calls for procedure B.
Dr. Petrus returns to the computer and resumes typing. Another video starts and camera zooms in again.
INT. – 6TH GRADE CLASSROOM, CIRCA 1970
The teacher, MRS. JACOBS, early 60s, stands in front of about 25 students, ages 11-12. Sitting in a front desk is AMY, who is missing her right arm beneath the elbow due to a birth defect. CHRISTIAN sits behind her.
MRS. JACOBS
OK class, how many of you have presentations on inspiring people ready today? Raise your hands.
CHRISTIAN
(whispering to other students)
Lefty only has a 50-50 chance to get that right.
Snickers are heard from nearby STUDENTS. Amy has also heard him, and her eyes begin to well with tears.
MRS. JACOBS
Was there something you wanted to share with the whole class, Christian?
CHRISTIAN
No, Mrs. Jacobs.
MRS. JACOBS
Well let's keep it that way. So, who wants to go first. Amy raises her left hand, and is motioned up to the front of the class.
MRS. JACOBS
Alright, Amy, who are you going to tell us about.
AMY
My inspiring person is Helen Keller.
MRS. JACOBS
That's a wonderful choice, Amy. Go ahead.
Amy is holding a folder to her chest with her right arm, and as she tries to remove papers with her left hand, everything falls to the floor.
CHRISTIAN
Smooth move, Ex Lax.
(he and other students laugh)
Amy is seen crying as she bends down to pick up the papers. Mrs. Jacobs rushes past her, grabs Christian by the collar and drags him out into the hall.
INT. – SCHOOL HALLWAY
CHRISTIAN
Hey, let go. You're not allowed to hurt me. I'll tell my parents.
Mrs. Jacobs releases him with a mild shove, then smiles sweetly at him.
MRS. JACOBS
There's no need to worry about that, Christian. I just wanted to have a little talk with you.
CHRISTIAN
What, are you going to give me a sob story about poor Amy and her bad arm?
MRS. JACOBS
No Christian, you know all about that. You know how hard it is for her to do things, how easily her feelings are hurt, how few real friends she has. You don't need to hear that story again.
She stops and gives him a long look before continuing.
MRS. JACOBS
No, I'm going to tell you another story. A story about an old teacher, one who had been putting up with arrogant assholes —
Christian's eyes get wide
MRS. JACOBS
–that's right, I said assholes. Arrogant assholes like you who think they're funny. You get the other kids going, disrupt the class, make the crippled kid cry. Good for you.
She reaches for his arm, and Christian flinches. She smiles wider, takes it gently and leads him down the hall.
MRS. JACOBS
Let me tell you a secret. The first few years I taught, you rotten kids made me cry, too. Not in the classroom – no, I waited until I got home, or at least out to my car. I didn't know what I was doing wrong, why I couldn't get you to behave.
They turn a corner.
MRS. JACOBS
Then I figured it out. I wasn't doing anything wrong, except letting your kind get to me. So instead of crying about it, I decided it was time to act.
They reach a door and Mrs. Jacobs opens it and ushers Christian outside. They continue walking away from the school.
MRS. JACOBS
Did you ever hear about Bobby Rasmussen? He went to school here about 25 years ago.
CHRISTIAN
(timidly)
No.
MRS. JACOBS
He was a lot like you. Class clown, but with a dirty, mean streak. Finding the weakest kid… the one with the most acne, or hand-me-down clothes, or a lisp. Then he'd lay into him and not let up. You sure you've never heard of him.
CHRISTIAN
(voice cracking a little)
I'm sure.
MRS. JACOBS
Funny, it was in all the papers. Of course you weren't born then, but in a town this size I would have thought the legend would have still been going strong.
Anyway, everybody thought Bobby was such a nice boy — the whole "You look very nice today Mrs. Cleaver" bit.
Christian gives her a confused look.
MRS. JACOBS
Oh yeah, you won't know that either. Never mind. Anyway, Bobby was this rotten kid that always came away smelling like a rose. That's why the whole town was in shock when they found his body.
Christian stops and lets out a gasp. Mrs. Jacobs gently takes his arm and keeps him moving toward the retention pond.
MRS. JACOBS
Yes, it was a beautiful Friday, just like this one. But he never made it home from school. As I told the police later, he had stayed after to make up some work, and I offered him a ride home but he asked that I drop him at Woolworth's on the other side of town instead. I even made sure to call his mom and tell her that's what I was doing.
They had reached the side of the retention pond, and both stop.
MRS. JACOBS
That's what made it so strange on Monday when they found his body floating in this very pond. No one ever solved the mystery.
(beat)
Let's go back to class.
They turn and start walking. Christian is ashen with fear.
MRS. JACOBS
Normally I would be devastated at the loss of a student, but, confidentially, I didn't cry a tear. He really got what he had coming, don't you think?
They walk the rest of the way to the school in silence.
MRS. JACOBS
I hope our little talk has made you rethink your behavior, Christian. I think Amy deserves an apology when you get back to class, don't you?
CHRISTIAN
Yes, Mrs. Jacobs.
MRS. JACOBS
That's a good boy. Oh, and two more things before we go in.
CHRISTIAN
Yes, Mrs. Jacobs.
MRS. JACOBS
I like to keep these little teacher-student talks just between us. I wouldn't want you to waste your time telling your parents, or the police anything. After all, if they didn't doubt the story of a nearly brand new teacher, who are they going to believe today? A well-respected, veteran teacher in good standing, or an arrogant asshole. Do you understand?
CHRISTIAN
Yes, Mrs. Jacobs.
(beat)
What's the other thing.
MRS. JACOBS
That pond is a lot deeper than it was 25 years ago.
She opens the door into the school and they start down the hall.
DISSOLVE TO
INT. – DR. PETRUS' OFFICE
Dr. Petrus is smiling wide as he clicks off the video and picks up his tablet to record.
DR. PETRUS
Mrs. Jacobs, surgery suite two, patient's history calls for procedure A… no, make it A+.
He swivels back to the computer and types. Another video begins and the camera zooms in.
EXT. – CHILDREN'S REHABILITATION CENTER
DISSOLVE TO
INT. – LARGE MEETING ROOM
AMY, now in her 40s, is wearing a lab coat. She now has a prosthetic right hand, and is talking to a SARAH, age 10, who is missing the bottom of her right arm. Amy is holding a smaller prosthetic hand.
AMY
Well, Sarah, today is the big day. Are you ready to take it for a spin?
SARAH
I'm a little nervous about whether I can make it work.
AMY
Oh, c'mon. If an old poop like me can use a fake hand, a sharp kid like you won't have any problem! We'll have you playing the violin in no time!
(both laugh)
Sarah hesitates for just a moment, and then presents her outstretched arm to Amy, who gives her a hug before proceeding.
DISSOLVE TO
INT. – DR. PETRUS' OFFICE
Dr. Petrus clicks off the screen.
DR. PETRUS
That's all I need to see.
He picks up the tablet.
DR. PETRUS
Amy Davis, surgical suite three, also procedure A+.
Dr. Petrus stands up, picks up the phone and pushes a button.
DR. PETRUS
Priscilla. I'm on my way to surgery. Let triage know.
He walks out a different door.
DISSOLVE TO
INT. – HALLWAY OUTSIDE OPERATING SUITES MARKED 1-10
Dr. Petrus stands with DR. LOUKAS, late 60s. Both are in full surgical scrubs, and holding tablets.
DR. PETRUS
Luke, I want you to take suites two and three, Mrs. Jacobs and Miss Davis. I want Mrs. Jacobs restored to the beauty of her youth. She is going to be spending eternity being rewarded for the patience, love and justice she showed as a teacher.
DR. LOUKAS
Understood. And Miss Davis?
DR. PETRUS
You are to craft her a beautiful and miraculously talented right hand. It will allow her to do all the things that she couldn't do in life. I'll start with suite four and work my way through those killed in the train accident.
DR. LOUKAS
What about Rev. Anderson in suite one?
DR. PETRUS
Send an intern in for him. All he needs done is Procedure B – the Bobbit. He won't need a penis in hell.
He starts to walk toward suite four, and turns.
DR. PETRUS
Oh, and make sure they use the dull knife.
Both laugh and enter their respective surgical suites.
DISSOLVE TO
INT. – SURGICAL SUITE FOUR
A NURSE is standing next to the patient, who is awake and lying on the table. Dr. Petrus approaches and picks up the tablet with his information. A look of recognition crosses his face, and he turns to the patient.
DR. PETRUS
Well, Christian, how lucky that you ended up in MY surgical suite today. You couldn't have found a better doctor to do your plastic surgery.
CHRISTIAN
Plastic surgery? I don't need plastic surgery. Why am I here? Last I remember I was on a train into work.
DR. PETRUS
Yes, you were, Christian. What an ironic name you have. Christian. You'd think someone with that name would have gone through life behaving differently. But even after Mrs. Jacobs scared the bejesus — no pun intended — out of you, you still were an arrogant asshole, weren't you?
CHRISTIAN
How do you know that? Where am I? What's happening?
DR. PETRUS
What's happening, Christian, is that you're dead. You and the other 40 people on the train. You didn't come through the pearly gates, like those in my waiting room, but you all pay a visit to me, Dr. Simon Petrus, so I can decide where you go, and make the necessary adjustments to your body before you make the trip.
CHRISTIAN
What are you, some kind of devil?
DR. PETRUS
Actually, many people call me a saint. But enough talk. Let's get started. Nurse, please strap down the patient's right arm in preparation for amputation beneath the elbow.
Christian screams and struggles, but to no avail. Dr. Petrus picks up an axe and chops off the bottom of Christian's arm.
DR. PETRUS
Well that was quick.
Orderlies come in to roll Christian out of the room. Taking off his gloves, Dr. Petrus turns in that direction.
DR. PETRUS
Have fun in hell, Lefty. Tell Bobby Rasmussen that Mrs. Jacobs says hi!
FADE OUT